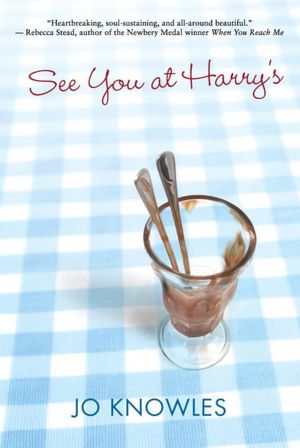 By Jo Knowles
Fern is your average 12 year old girl. Just starting to ride the upper school bus with her older brother Holden, she's ready for big things. At home, her out of high school sister has to work at their parent's diner, Harry's, as well as watching their baby brother Charlie.
When the book starts, Fern is describing her best day ever, setting up her relationship with her family and how she feels around them. It's a truly touching moment. Then, the story begins as the family is driving to the restaurant to see a surprise from the dad. At the diner, surprise! They're making a comercial while wearing stupid shirts, all to raise popularity. Then they get their big break. "See you at Hawee's!" A line shouted by Charlie at the end. Then business is booming. So, the reader watches Fern struggle with her family, homework, school, friends, helping Holden, watching Charlie and deal with life.
But then the unthinkable happens.
This book was a really good read, all the characters are very relatable and easy to love. You really get to connect with them, look into their lives. Then, when the unthinkable happens, you totally live through it with them. I was just bawling for an hour while reading.
It gets a really high 4 rating. It wasn't the best I've ever read, but I really like it. As for food, is there any food that makes you sad for whatever reason? If so, take that and multiply the sadness by 10, then you got it.